The Black Hour Internet Radio Show
is an internet radio show based at Laney College in Oakland, CA.
"The Black Hour sheds light on the voices of Laney's Black students, taking them from the abyss of silence to the glow of empowerment," according to the show's original description. The two-hour show airs every fourth Wednesday from 5-7 p.m. (PST) on
9thFloorRadio.com.
The Black Hour
was originally a project of the
Laney Black Student Union
. The
first show aired in April 2008
. Members wanted an opportunity to voice their opinions on things that mattered to them.
The original co-hosts were Reginald James and Andrea Spearman, then interim-president and vice-president of the Laney BSU. As of July 2008,
The Black Hour
is no longer affiliated with the Laney BSU in any official capacity.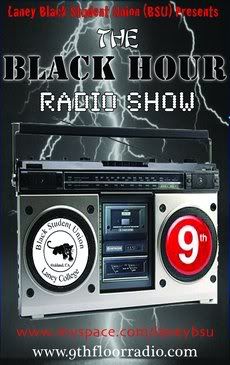 –
August 2008